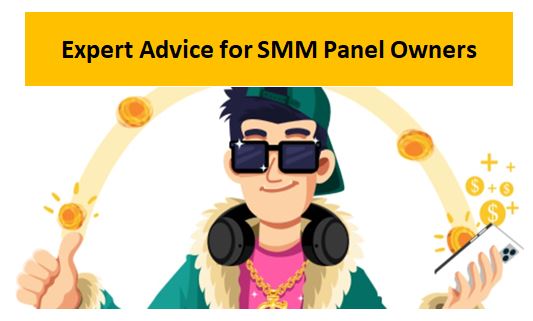 Expert Advice for SMM Panel Owners - All Marketing Trends
As the social media landscape continues to evolve, businesses are increasingly relying on social media marketing (SMM) to boost their online presence and engage with their target audience. SMM panels have emerged as valuable platforms that connect businesses with a range of social media services and solutions. If you are an SMM panel owner, it's essential to navigate this dynamic industry strategically. In this article, we will provide expert advice to help you maximize success and effectively navigate the challenges of being an SMM panel owner.
Build a Robust Network of Providers:
To ensure the quality and reliability of your services, it is crucial to establish a strong network of social media service providers. Partner with reputable and trustworthy providers who can deliver high-quality followers, likes, comments, and other engagement metrics. Conduct thorough research and vetting to ensure they adhere to ethical practices and can meet the demands of your clients. A strong network of providers is the backbone of a successful SMM panel.
Provide great customer support:
Providing great customer support is crucial for fostering a positive and long-lasting relationship with your customers on smm panel. Whether it's answering inquiries, addressing concerns, or resolving issues, prompt and helpful customer support can make a significant difference in customer satisfaction and loyalty. Responding to comments, direct messages, and mentions in a timely manner shows your commitment to addressing customer needs and reinforces the trust they have in your brand. Actively listen to your customers, empathize with their concerns, and provide personalized solutions or assistance. Going above and beyond to exceed their expectations demonstrates your dedication to delivering exceptional service. Moreover, actively monitoring feedback and reviews allows you to identify areas for improvement and make necessary adjustments to enhance the overall customer experience. By providing great customer support on panel, you not only resolve issues effectively but also create positive word-of-mouth, build brand advocacy, and cultivate a loyal customer base.
Focus on User Experience:
User experience is paramount in the SMM industry. Streamline your panel's interface, making it user-friendly, intuitive, and responsive. Ensure easy navigation, quick order processing, and prompt customer support. Regularly seek feedback from your clients and implement improvements based on their suggestions. By prioritizing user experience, you will enhance customer satisfaction, encourage repeat business, and attract new clients through positive word-of-mouth.
Consider the overall aesthetic, composition, and quality of your visuals to create a cohesive and visually pleasing feed. Additionally, prioritize user engagement by actively responding to comments, direct messages, and mentions promptly. Take the time to understand your audience's preferences, interests, and pain points to create content that resonates with them.
Furthermore, make it effortless for users to navigate to your website or make a purchase by including relevant links in your bio or posts. By focusing on user experience, you can build trust, loyalty, and a strong community of followers who will continue to engage with and support your brand on social media.
Offer Diverse and Quality Services:
Different clients have varying needs, so it's crucial to offer a diverse range of social media services. Provide packages and options that cater to various platforms, including Facebook, Instagram, Twitter, YouTube, and LinkedIn. Keep track of emerging trends and update your service offerings accordingly. Additionally, emphasize the quality of your services, ensuring that the engagement metrics delivered are genuine, organic, and aligned with clients' expectations. Quality services will establish your credibility and set you apart from competitors.
Develop a Targeted Marketing Strategy:
As an SMM panel owner, you must practice what you preach. Develop a targeted marketing strategy to promote your services effectively. Utilize social media platforms, paid advertising, content marketing, and SEO techniques to generate awareness and attract potential clients. Showcase your expertise, provide value through informative content, and leverage testimonials from satisfied clients. Consistently analyze and refine your marketing efforts based on data and feedback.
Nurture Strong Customer Relationships:
Building and maintaining strong relationships with your clients is essential. Provide proactive and responsive customer support to address inquiries, resolve issues, and offer guidance. Strive for transparency, honesty, and open communication. Regularly engage with your clients through newsletters, email marketing, and exclusive offers. By nurturing strong customer relationships, you will foster loyalty, encourage repeat business, and attract referrals.
Stay Abreast of Industry Changes:
The SMM industry is fast-paced and constantly evolving. Stay updated with the latest industry trends, algorithm changes, and policy updates from social media platforms. Actively participate in industry forums, webinars, and conferences to expand your knowledge and network with fellow professionals. By staying informed, you can adapt your strategies, provide informed advice to clients, and position your SMM panel as a trusted source of expertise.
Conclusion:
Running an SMM panel requires careful planning, attention to detail, and a commitment to excellence. By following expert advice, you can navigate the challenges of the industry and maximize success. Focus on building a reliable network of providers, prioritize user experience, offer diverse and quality services, develop a targeted marketing strategy, nurture strong customer relationships, and stay informed about industry changes. By implementing these strategies, you will position your SMM panel as a go-to resource for businesses seeking effective social media marketing