YouTube is the most popular video sharing site in world. With around 2 billion monthly unique visitors, youtube is the most popular video sharing site in world. With over 14 billion monthly visits, YouTube is the world's second-most visited website after google. More than 80% internet user familiar with YouTube. So, you can reach to billion of people around the world using this platform. All you need to build up a popular youtube channel. Creating a channel is too much easy but getting subscribers in not an easy task. In this article I will teach you how to increase your YouTube subscriptions in one month.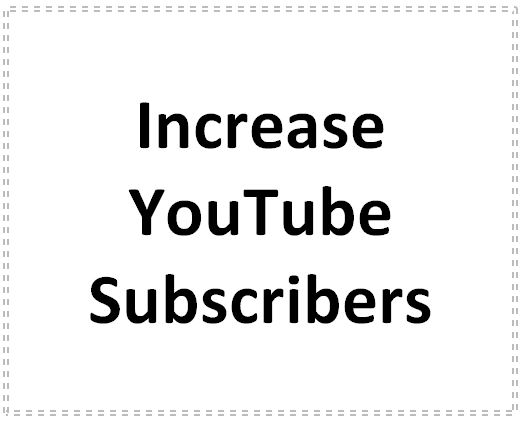 Publish Interesting Video
People want to watch interesting and informative video. So, make sure to create informative video and publish them in your channel. You can make a video insteresting easily using below tricks:
Add music: Music can make a video livelier and audio is a major component of a quality video. So, never forget to add a great music into the video content.
Keep it short: Though it need more than 10 minutes video for SEO purpose but you will lose the attention of your viewers if you have lengthy clips. So, make sure to publish both short and ling video. Short video should be simple and deliberate.
Include interviews: While you are at the event, pull some people aside and ask questions. It is helpful if you create these questions ahead of time. Try to get unique insight from the individuals you interview.
Consider voiceovers: You can use sound recording equipment to add a narration to the video. It makes video more natural and live.
Publish Long Video (10 Minutes +)
Long video can help you to get video raning on youtube search. Moreover it can bring more watchtime for your channel. So, make sure to create minimum 10 minutes video. Long video rank easily in search result. So this is important to create long video if you want to get ranking in search. First page ranking can bring you huge traffic for the video.
Optimize Your Video To Get More YouTube Subscriptions
Basic features for your video: You can optimize your videos to help viewers find your content easily and keep them engaged. Check out the video below for an intro to video thumbnails, titles and descriptions. You'll also learn about info cards, end screens, and playlists.
Get the latest news, updates, and tips on the YouTube Creators channel. Clear, consistent, and representative so that people who find your channel will instantly understand what your videos are all about.
Promote Your YouTube Channel on Other Website
If you have a website, you can promote your channel there using video embeded function. You can promote the channel on your social media site too. Make sure to share your video on Instagram, Facebook, TikTok and other platform to grab more peoples attention. I always share my youtube video on my Facebook page, Instagram page and Twitter page. It brings me new visitors and subscribers.
Title is the most important part of a video. So, make sure to select a searchable video title. Make sure your video keyword should have on the title, description and tag.
Make Eye-Catching Thumbnails: The thumbnail of your video is the first thing YouTube users will see. So, you need to create eye-catching thumbnails if you want people to click on your video and watch.
Create longer than 15 minutes video content. Make sure the video content is interesting and people love it.
Buy YouTube Subscriptions
If you don't have enough time to follow above methods then you can try an alternative. The are many smm panel in world, you can buy subscribers from them. You might know that there are hundreds of fake panel over the internet. So, make sure to choose a reliable panel from them.
At all marketing trends, we provide all kind of youtube services to grow your channel. We provide non drop YouTube Subscriptions, Video Views, Likes, Comments and watchtime. You can monetize a channel easyly using our game changing youtube services. Our service is 100% safe to use. You can buy world cheapest and best youtube services from our panel. Take a look at our service page and see our service price.
After all, if no one watches your videos, you won't get YouTube subscriptions. So, try to attract peoples attention using the video. Request people to subscribe, like and share your video. It can reach you to more people online and get more subscriptions.